We recently returned from our 2022 retreat in Park City, Utah after a 2-year hiatus due to the COVID-19 pandemic. The retreat is a tradition with the main goal of maintaining and building company culture. This is a treat for everyone in the company to have the opportunity to spend time with each other in person. The retreat is a great opportunity for us to build new connections and strengthen existing ones.
The Plan
We had entertained the possibility of traveling outside the US but decided it would be just as good to stay in the country this year and not have the hassle and extra exposure that come along with flying internationally. We wanted to plan the trip quickly and avoid winter travel. We wanted nice scenery and easy access to and from the airport. The Salt Lake City, Utah area was the perfect destination for us this year.
Our plan was to maximize our time together as a group, so we opted to rent out the largest and nicest home we could find. The neighborhood offered plenty of hiking trails for those who were interested. Though this was a kid-free trip, spouses/significant others/guests were invited and some joined us for the festivities. As with any large-group planning, some arrived late, departed early, and some were not able to join us due to prior commitments. We would have to find a way to include them though they were not there physically.
Tip #1: Give Flexible Flight Booking Options
We had one person book the flights for everyone, but gave everyone the option to book the flight themselves if they wanted. The majority of folks opted for the former so it was almost no overhead to the individual other than communicating their preferred date and times for arrival and departure.
Tip #2: Group Inbound and Outbound flights together for Ride-share
By breaking down the flights into groups of time windows for arrival and departure, we were able to share the Lyft to and from the SLC airport when convenient. These groups were merely suggestions and ultimately the decision to share was the individual's choice.
Tip #3: Lyft Pass and Rental Van
We provided a Lyft code for everyone's use for the entire duration of the retreat. To use it, you just needed the Lyft app installed on your phone and to scan the code. This took care of airport to lodging transportation costs for almost everyone. We also rented a 7-passenger minivan as an option to get around without Lyft when needed. Its main use was for a large Costco grocery haul to fill our home away from home with food, snacks, treats, and a wide assortment of beverages. The van proved to be useful in many other ways shuttling folks to and from hiking trailheads, trips to downtown Park City, and smaller store runs throughout our time there.
Tip #4: Plan One Main Activity
Our retreat spanned four days where two of which were travel days. Most of us had Friday evening, and all of Saturday and Sunday for activities. We chose to keep the agenda light and planned on one main activity which all were invited but not obligated to join. We planned for a low-to-mid impact hike on one of the local hiking trails near where we stayed. It would be a good way to see the beautiful views during peak fall colors, enjoy the gorgeous weather, and experience it with the team. With no other set plans, we knew that the rest of the retreat would be filled with much fun based on the cast of characters that make up Prominent Edge.
Getting There
I love the excitement of a trip like this. I joined Prominent Edge a week after the last corporate retreat, and I was ready and eager to see everyone who I see on video calls frequently but have not had the chance to meet face to face. I had to share my row with two XL-sized young men during my flight there. I, being of the same build type, had to endure a 2.5-hour flight feeling like a stuffed sardine. When I arrived at Salt Lake City Airport, the last thing I wanted was to be stuffed into another vehicle.
SLC Airport was undergoing a massive renovation. This meant that there was only one way in and out of the airport regardless of the terminal. I must have walked at least 20 minutes before reaching the outside. Once I got outside, I realized there was an hour to an hour and a half before the rest of my group arrived. This gave me enough of a reason to take a solo Lyft to the rental house.
As a first-time traveler to Utah, it was a very exciting trek to Park City from my Lyft. The scenery throughout the trip was beautiful. I had a friendly Lyft driver who was a Utah native and we talked quite a bit about Utah, the climate, ski season, camper van conversions, and the legend of the skinwalker that is popular in that area of the country. Before I knew it, I was in front of our house for the weekend. It rested on the face of a mountain and had stunning views of other mountains during the peak season for fall foliage. It was an amazing site.
Meeting Everyone for the First Time
For a moment I could imagine camera crews behind me as I show my new house on MTV Cribs. I opened up the front door to see that this was the game-room level of the house. We had folks already playing ping-pong and arcade games. I was quickly greeted and welcomed in by our resident data scientist, his wife, and a few other software developers. It was going to be a great time!
Because I had spent so much time with each individual via video chat in the last three years, nothing really surprised me. It was great to meet the spouses/guests and learn more about them. It was also a confirmation to me of WYSIWYG (What You See Is What You Get) with everyone at Prominent Edge.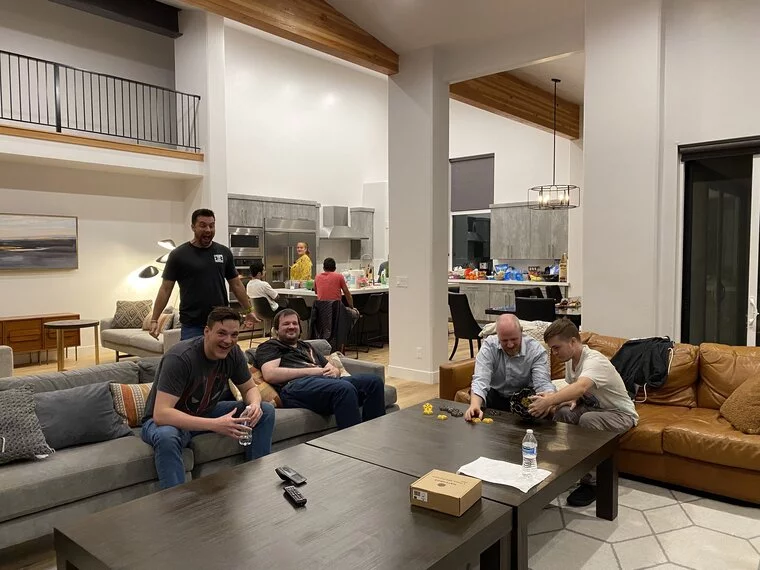 Engineers or Professional Chefs?
I didn't know such culinary talents were present in a house full of engineers. I had heard stories of some of the fare in past retreats and how much people enjoyed it. I finally had the chance to experience it for myself. They were right, it is true, and everything was absolutely delicious. Some of the delectable highlights of the retreat included a leg of lamb with dijon and rosemary, filet & NY-strip steak with mushrooms, shrimp goi (a Vietnamese salad), three different varieties of breakfast scones, Italian sausages and pasta. Snacks and a wide variety of drinks were available throughout to keep us away from any hint of hunger. The meals were planned a few days before arriving so that we could make sure we had the best possible ingredients. Each meal had a few people helping to make it happen. When one person would take the lead, others would become sous chefs, arrange the dishes, and help as they saw fit.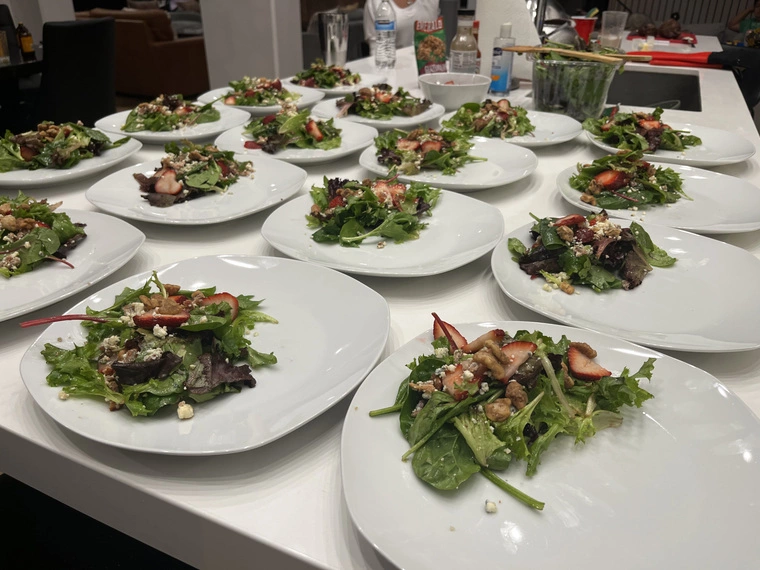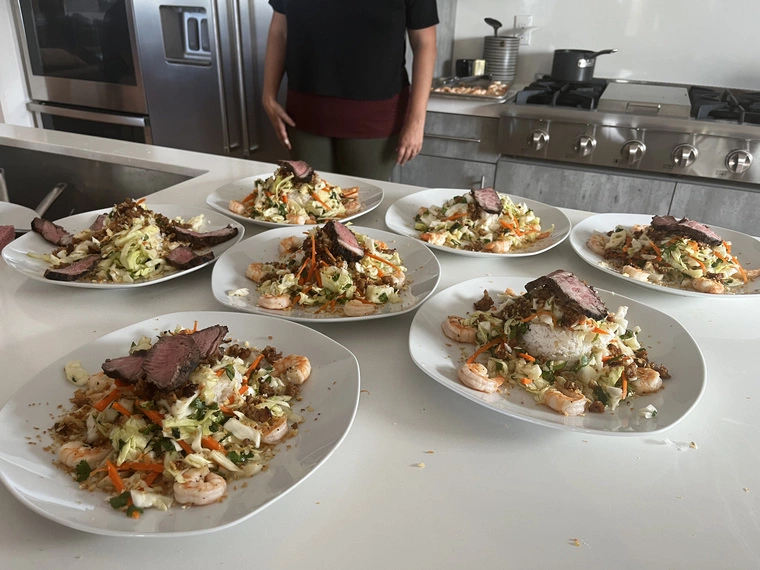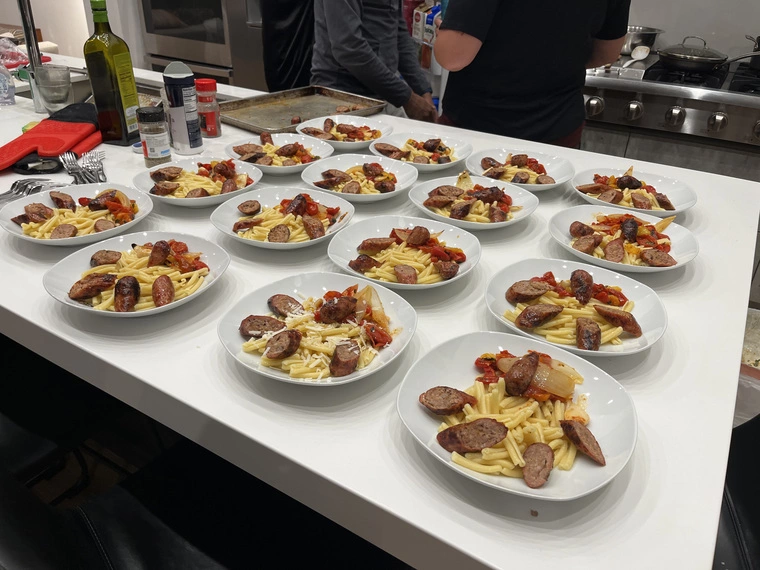 The Hike
Tip #6: Be Prepared for Altitude Sickness
Our group events outside of our home base were centered around hiking. Most of us came from a much lower elevation and needed to adjust to the altitude. We made sure everyone had the chance to stop and rest as often as needed. We also had some over-the-counter meds available just in case and made sure to drink enough water.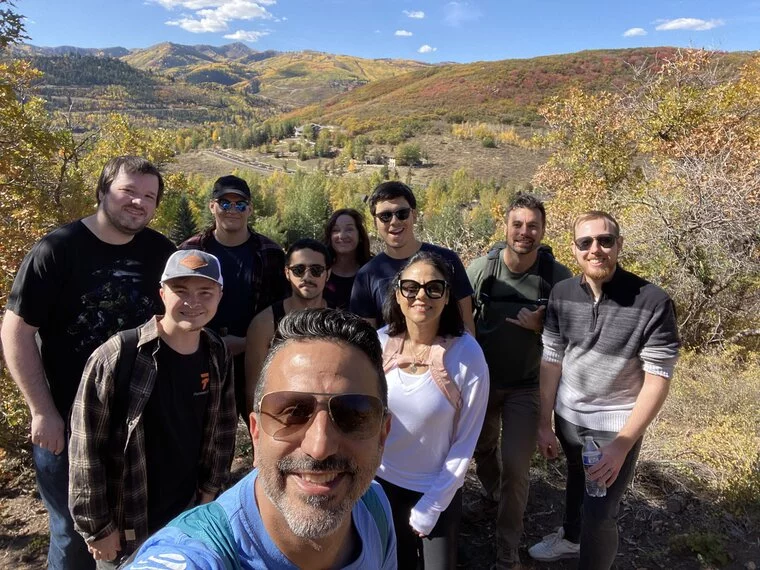 We originally wanted to take the tram up at one of the resorts and hike down to make it easier on everyone, but the lifts had closed a couple of weeks earlier this year in anticipation of an early winter season. So instead, we looked at a mid-level hiking trail that started in our neighborhood and was a couple of miles long. The trailhead was not too far but since it was uphill, we decided to shuttle folks to the trailhead.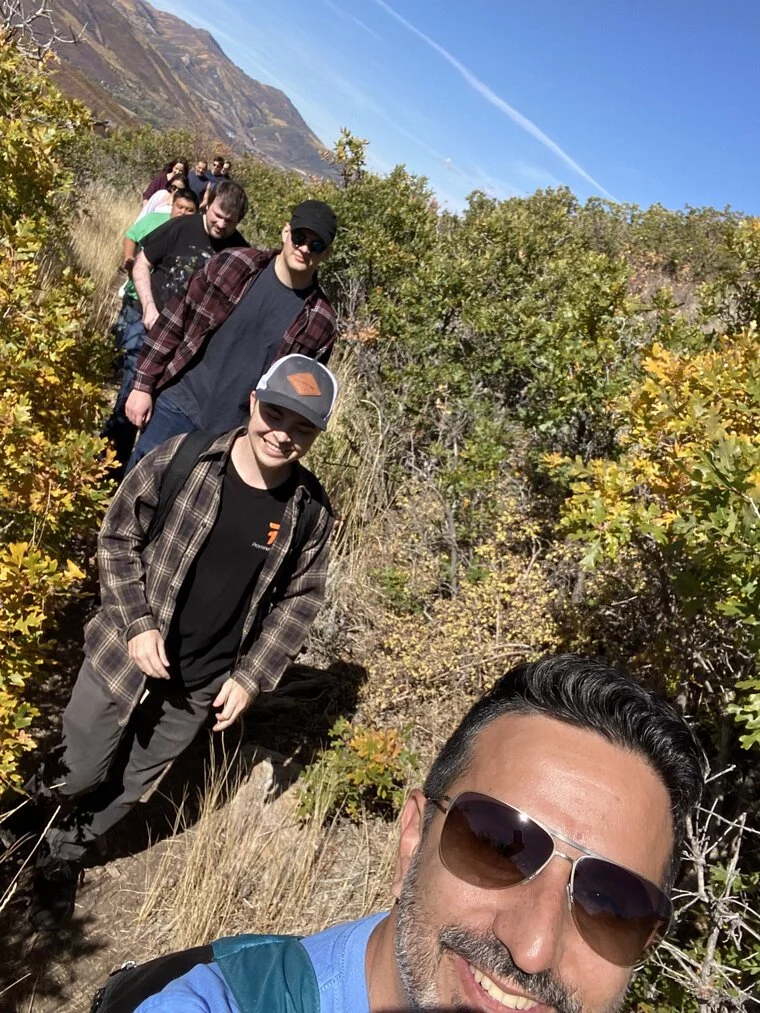 We couldn't have picked a better weekend to visit Park City. The weather was phenomenal (high 40's at night and mid 60's during the day). No clouds in the sky and you can see nature and all of its beauty everywhere you looked on this hike. Once we got to a clearing with some additional space along the trail, we took some group photos along with a needed break before continuing on with the hike.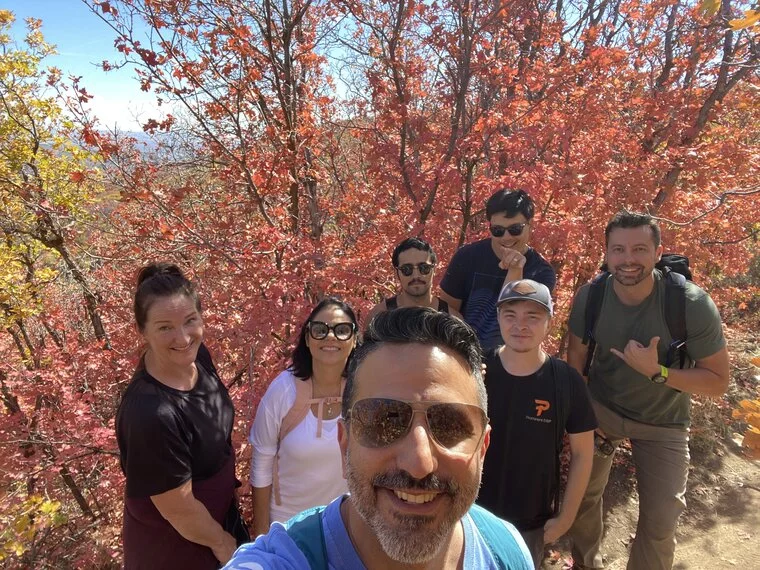 In the evening, several of us, a safe distance away, were able to see a wild moose walking on the street! It looked taller than the minivan and about three-fourths the size of it too. We also got to see some wild turkey and deer.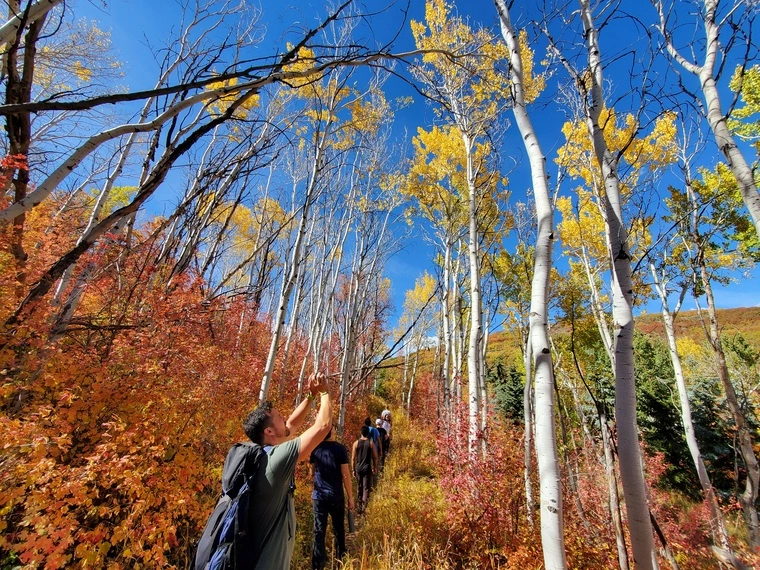 Downtown Park City
The next day, many of us decided to go on an adhoc group excursion to downtown Park City. Several folks decided to hike downtown, so we gave them quite a bit of a head start before we ventured into the minivan. This part of Park City is known as Park City Main Street District. It's home to many businesses including small boutiques, restaurants, and spas. The place was buzzing. This was the place to get some souvenirs for families who were not able to attend the retreat. We were all able to get around and enjoy the environment, had some drinks at a couple of watering holes, and even got to play a few games of pool.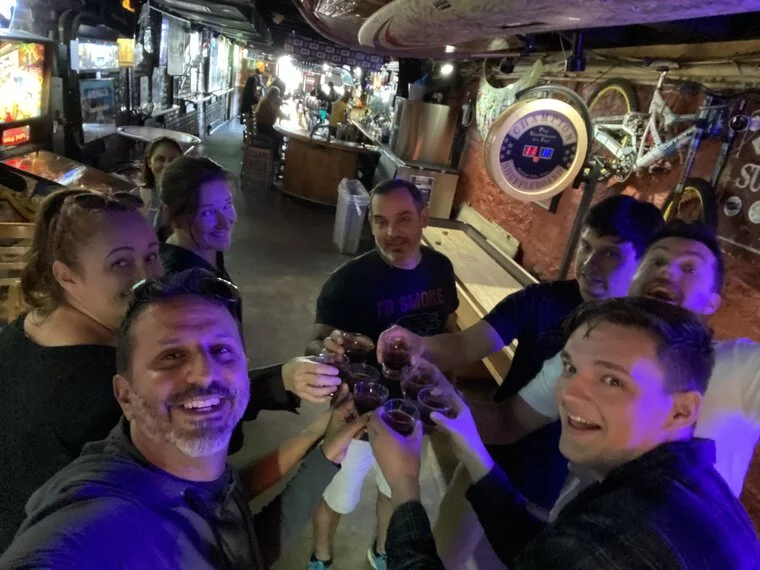 Tip #7: Be Prepared for Another Hike Downtown
The Park City Main Street District is also very hilly and requires you to be prepared for the trek. Put on some comfy shoes, and pack a water bottle. The uphill hikes are no joke. You're still at 7000 feet.
One-on-one time and small-group gatherings.
Tip #8: Bring Lots of Games
Because our rental house had many different places for people to gather, it was very conducive to spending good quality 1-1 time and breaking up into smaller groups. Engineers by nature, are problem solvers. Our engineers are big into card games and game theory. There was not a shortage of puzzles and games as we came prepared. It seemed like there was at least one game going on the entire weekend. These included a 3D puzzle designed and created by one of our own which took multiple folks to solve. Some of our favorites that weekend included Coup, Love Letter, Incan Gold, A Fake Artist Goes to New York, and Parade. I particularly enjoyed the banter during the many games we played.
The house had a game room that included ping-pong, a four-player arcade machine with thousands of games, shuffleboard, and foosball. The game room also had a wet bar. The game room saw lots of activity throughout the weekend. What's more, is that we had access to an indoor basketball court which was two floors below the ground level of the giant house. We played Horse, Around the World, and 2-on-2!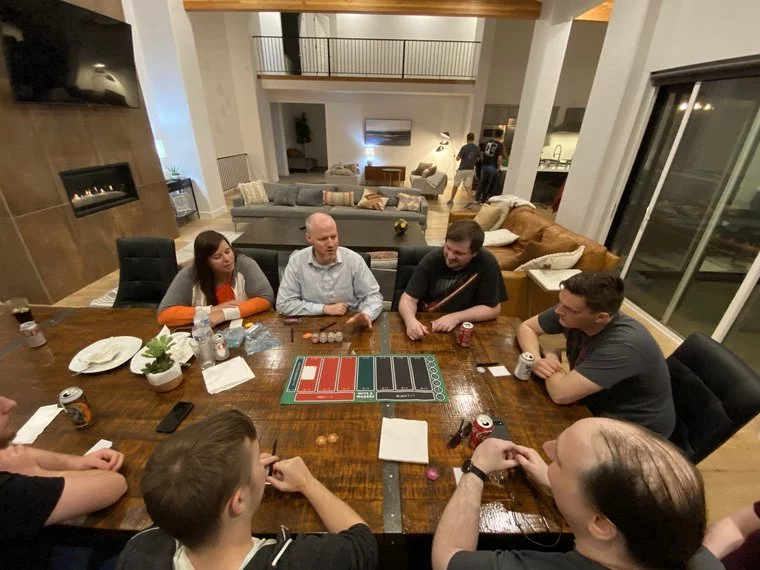 The Living Area
The main floor of the house is an expansive open space containing the Kitchen, the Living and Dining Areas. It was spacious and had plenty of seating for all. For those who wanted to lounge around or play their musical instruments, this was the perfect place to be. You can always find a friendly soul to chat with.
On our last night there, our resident data scientist gathered everyone and walked us through a lesson on decision analysis through some wagering competition. In fact, the actual description and thought experiment would need an article on its own. This activity had a winner and that winner won real money. The topic kept us all engaged and sparked some lively conversations and lasted until the late hours of the evening. It was fun, educational, and pertinent to everyday life as we all make decisions that have long-lasting consequences.
Conclusion
A yearly retreat like this was exactly what we needed. It's a great way for us to connect face-to-face, and get to know each other on a more personal level. The location and duration were spot-on and hassle-free despite the travel. The rental house's layout was great for our goal of maintaining and building connections. The food was exquisite. There was plenty of fun and laughs shared, and I can't wait for the next one!