We're honored to serve the federal government
.
Our talented employees work alongside federal government agencies to solve technical challenges and implement newfound efficiencies – all with the goal of helping citizens thrive.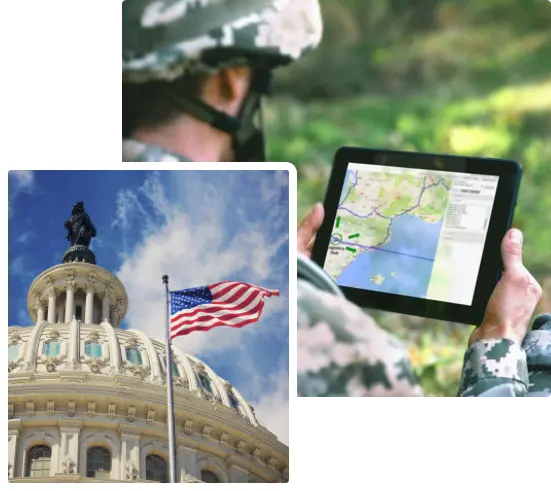 Procurement of Government Work
The following tables contain identifications, compliance numbers, and classifications needed for government-related work.
DUNS Code
079995299
CAGE Code
7GSY6
FAR
52.219-14 compliant
Vehicles
GSA Schedule 70
NAICS
54151
Custom Computer Programming Services

PRIMARY

541512
Computer Systems Design Services
541613
Marketing Consulting Services
511210
Software Publishers
611420
Computer Training
541990
All Other Professional, Scientific, and Technical Services
Certifications
We are eligible for all government contracts that require the following certifications:
GSA IT Schedule 70
We have already been vetted by the U.S. General Services Administration (GSA) to be fair and reasonable in price as well as in compliance with all applicable laws and regulations.

View our Voluntary Product Accessibility Template Visit the GSA website
StatEngine
StatEngine is a real-time open source data analytics and visualization platform for public safety organizations.
NASA
Our contributions help NASA monitor the telescope and see where it is in space. It's space GIS. WHOA.
Underwriters Lab
We worked with UL to develop an innovative learning management system to increase firefighter knowledge to reduce injuries and deaths in the fire service and their communities.
AR / VR Technologies
We've developed facial recognition technologies used to identify and processes individuals in both connected and disconnected environments.
The CDC
In partnership with the Center for Disease Control, we help collect cancer data that enables data scientists to predict and decrease cancer outcomes of first responders.
Digital Streaming
We've developed an international audio and video streaming platform for delivering rich content to podcast listerners in difficult to reach and restricted locations.
Interested in working together?
We'd love to discuss how we can work together.